7 Amazing Benefits of Cloves for both (Male and Female)
---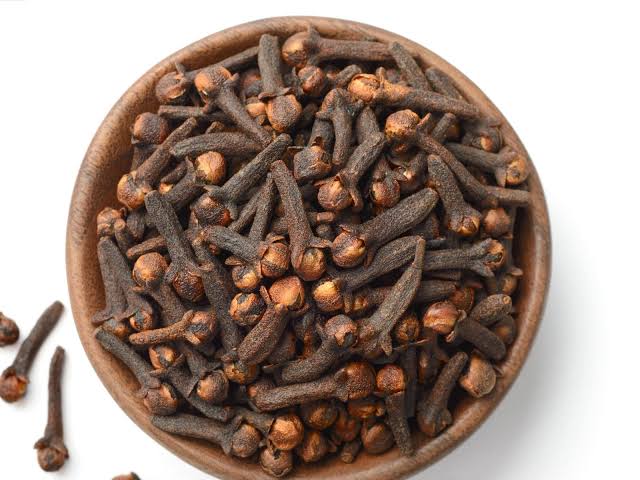 This article is made to enlighten you on the benefits of cloves for both male and female, the side effects of using cloves regularly and the important precautions to observe when using cloves.
What are Cloves
Clove is an important spice which is otherwise known as " Mother Nature's Antiseptic". it is a natural aphrodisiac, is one of the most ancient and important spices which is widely recognized all over the world for its medicinal, culinary, and recreational properties. It is an aromatic dried flower bud of an evergreen tree belonging to the Myrtaceae family and is indigenous amongst the Indians, Indonesia, Sri Lanka, Mauritius, etc. But in recent years has been cultivated in different locations of the world.
Cloves is an effective home remedy for toothache, when a whole clove is placed near the aching tooth a quick relief will be gotten from the pain. It can also provide relief from cough and sore throat due to its antimicrobial, antioxidant and anti-inflammatory properties. It can also help in the management of diabetes as it can lower the blood sugar levels.
Clove being one of the most important and common spices used in cooking many traditional medicine including ointments as a topical treatment. Clove oil can also help prevent mosquito bites due to its excellent mosquito repellent property. Consuming Clove churna or applying Clove oil to the skin of the penis might help prevent premature ejaculation.
What is the Source of Cloves
Cloves is typically a plant based.
Nutrients in Cloves
Cloves are plants highly enriched with good amounts of vitamins and minerals like: Vitamin E, Vitamin K, Potassium, Calcium, Magnesium, Potassium, Iron, Zinc, Folate, Choline etc.
Benefits of Cloves
Benefits of cloves for both male and female are as follows;
1. Cloves Increases Production of Sex Hormones
Cloves for sex hormone production are considered highly beneficial because they have manganese which helps to enhance testosterone and prolactin secretion in men.
2. Improves Overall Sexual Health
This is an important benefits of cloves for both male and female; Cloves are known for enhancing sexual desires in both male and female and thus improving overall sexual health in men. Ayurveda and Unani medicines too recognize the potential benefits of cloves because cloves has been used to treat sexual disorders in men for ages.
3. Enhances Nerve Stimulation
Studies shows that sterols and phenols in cloves have the properties of increasing nerve stimulation greatly in the body. Thus, cloves helps in improving sexual responses in men.
4. Reduces Risk of STDs
Another good benefits of cloves for both male and female is; it treat STDs very well. Sexually Transmitted Diseases (STDs) are caused by pathogens and microbes like bacteria and fungi but since cloves has antimicrobial properties it helps fight these pathogens prevent such diseases.
5. Cloves for ED (Erectile Dysfunction)
Cloves help to boost the testosterone level in the body. Thus, one can attain the desired erection and sexual pleasure. It boosts libido in men.
6. Clove to prevent Premature Ejaculation
Cloves helps by increasing the blood flow and nerve stimulation of the genitals, thereby preventing premature ejaculation in men and brings about more extended ejaculation period which leads to improved sexual performance and better sex and intimacy for both partners. This is another good benefits of cloves for both male and female.
7. Clove to improve Sperm Motility and Count
Cloves contain various essential vitamins like flavonoids, alkaloids, carbohydrates, proteins, and other nutrients, which increase sperm count and improve sperm motility in men.
Below are other benefits of cloves for both male and female;
Cloves is very helpful in oral health, maintaining immunity, may prevent or manage obesity, cancer, diabetes, respiratory issues, help in digestion, maintain skin and hair health etc.
1. In oral health
Chewing a clove daily can help resolve any foul odour in the mouth. A piece of clove can freshen up ones breath and also help in achieving greater intimacy among partners.
2. Cough and Respiratory Conditions
Cloves alleviate symptoms of cough, pain, and inflammation of the respiratory pathway. The oil present in cloves works as an expectorant to loosen mucus in the throat.
3. Obesity
A primary cloves water enhances metabolism, which aids weight loss.
4. Get rid of addiction
Cloves is one of the best remedies for addiction, chewing a clove whenever one crave a smoke can greatly help a smoker. Cloves work to divert your mind and help you get rid of your addiction
5. Other Important Health Benefits of Cloves
Drinking clove water helps to regulate blood sugar levels and also its antioxidant property aids in decreasing dead cells, thus improving liver health.
Important Precautions when using Cloves
1. Avoid cloves completely if you are allergic and monitor your sugar level at regular intervals if you're diabetic.
2. Do not use undiluted clove oil because it may cause harm and damage to the skin.
3. Avoid crushing cloves when you are not ready to use them because it reduces their effectiveness.
4. Diabetics and patients with liver disorders might want to take precautions before deciding to use cloves regularly.
5. Pregnant and lactating women must also be cautious before taking cloves since there are no human trials on the effect of cloves on pregnant women
6. It is also important that you check for possible allergens or even take an allergy test before starting cloves.
7. Few compounds in cloves might interact with drugs So it is necessary that one check with a healthcare practitioner if you are taking any medications.
Side Effects of Eating Cloves
If you are consuming cloves for medicinal purposes, you may experience the desired effects along with some side effects of cloves which is very normal. Listed below are certain commonly experienced side effects after eating cloves.
Mouth sores
Burning sensation in the stomach
Sore throat
Vomiting
Difficulty in breathing
Dizziness
Increased risk of cavities
Conclusion
Cloves are quite helpful for the sexual health of both men and women. It is an antioxidant, anti-microbial, anti-fungal, anti-viral, anti-nociceptive, immunomodulatory and anti-carcinogenic and helps improve libido, helps in nervous stimulation, improves sperm count, sperm motility and overall sexual health. However, since there is limited research on the dosage and effects of cloves on humans it is best to consult a healthcare provider before you introduce cloves in your daily regimen. You can use cloves as clove tea, clove flavored rice, add clove powder to lattes etc.